Residences at Government Center
The Residences at Government Center, known as the "Residences," is an affordable housing development located on the Fairfax County Government Center campus in Fairfax, Virginia.
The apartment complex was cr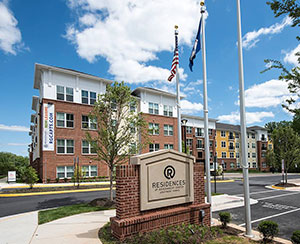 eated through a public-private partnership between Fairfax County, Fairfax County Redevelopment and Housing Authority, Jefferson Apartment Group, Stratford Capital Group, and the Virginia Housing Development Authority. Developed on publicly owned land, the location of the housing required no additional local subsidy. 
The Residences were developed through an innovative public-private partnership that came together to address critical housing needs. It is also the first project in Virginia to be financed through a hybrid structure of both 9% and 4% Low Income Housing Tax Credits (LIHTC). 
The Residences consists of 270 rental apartments (a mix of studio, 1 bedroom, 2 bedroom, and 3 bedroom), available to residents earning between 50-60% of the area median income.